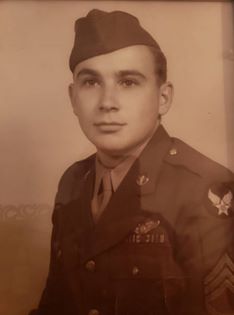 The Robert F. Finan Flight Deck at the Henry B. Tippie National Aviation Education Center is named in honor of Robert F. Finan, WWII Veteran and B-17 tail gunner.  Born in Newark, NJ on January 27, 1924, Finan moved to Belleville NJ, where he graduated from Belleville High School in 1941.
In 1943, Finan was drafted and assigned to the Army Air Force. In 1944, he flew 35 missions over France and Germany as S/Sgt. tail-gunner on a B-17 bomber of the 379th Bombardment Group, 526th SQ of the 8th Air Force based in Kimbolton, England.  Serving his country with distinction during World War II, he received the Distinguished Flying Cross and the Air Medal with three Oak Leaf Clusters.
After leaving military service in 1945, Finan returned to New Jersey, graduating from Seton Hall University in 1955 with his MBA. While working two jobs, he attended night school at NYU Graduate School of Business Administration, graduating in 1960.
Finan met his wife Janice while working for Prudential Insurance Company of America at its Corporate Office in Newark, NY.   Both would retire after working forty-one years at The Prudential, where Janice was the Secretary to the Vice Chairman, and Finan was an Associate Manager in the Bond and Stock Operations Division.
Finan had taken care of his mother until her passing in 1982, at which time Janice and Finan got married. They loved to travel after their retirement in 1981, spending their summers driving up and down the East Coast. They were avid supporters of many charities, including their local churches. They were cherished by their nieces and nephews.